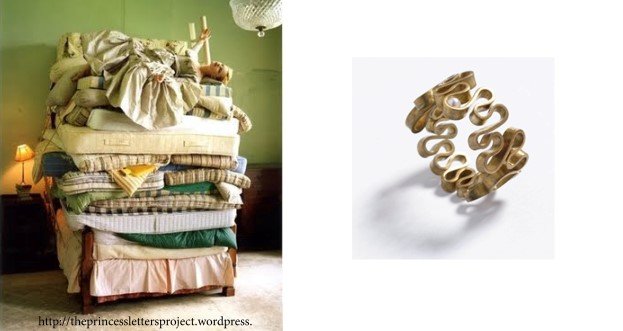 Hans Christian Andersen
In the event of Hans Christian Andersen's 200th anniversary in 2005, byUs staged a jewellery exhibition evolving around the famous poet's life and fairy tales. For the exhibition, Hanan Emquies chose the fairy tale "The Princess and the Pea" thus creating a collection of silver and gold jewellery each with a small gold ball or pearl hidden inside the creases of the metal.
The picture is kindly provided by:  http://theprincesslettersproject.wordpress
Other exhibitions
Joining this exhibition, Diana Holstein chose to challenge herself taking the "pearl necklace" category to the next level while designing a pearl piece made for modern life, not conservative nostalgia. As such, Diana Holstein's pearl set can be worn in several ways and for several purposes just as modern life demands: Everyday, cocktail and gala.