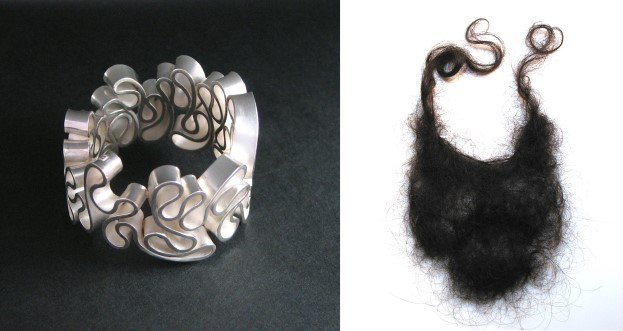 Kill your Darling
Galerie Metal, Copenhagen 2008
Hanan Emquies joined Galerie Metal in 2008 and the first exhibition he took part in was Kill Your Darling. The topic of which was to define one piece of jewellery – your darling – and deconstruct it. The solving of this artistic and aesthetic assignment defined the exhibition and the challenges were manifold:
Choose your piece of jewellery and take a picture of it. This piece of jewellery will be your focal point during the course of the exhibition.
Destroy the jewellery. How you do it, is your choice – use a hammer, a saw, melt it or trash it – just destroy it and make it useless.
From this deconstruction, you must make a new piece of jewellery with the same function (i.e. a ring must be turned into a ring again etc.)
In your redesign, you must use at least one new material, which you have never used for jewellery design before.
Make yet another piece of jewellery inspired by the deconstructed piece – this second piece must contain at least two of each item– two identical shapes, two locks, to chains. Whatever you do, the number must always be identical and matching.
Other exhibitions
Joining this exhibition, Diana Holstein chose to challenge herself taking the "pearl necklace" category to the next level while designing a pearl piece made for modern life, not conservative nostalgia. As such, Diana Holstein's pearl set can be worn in several ways and for several purposes just as modern life demands: Everyday, cocktail and gala.