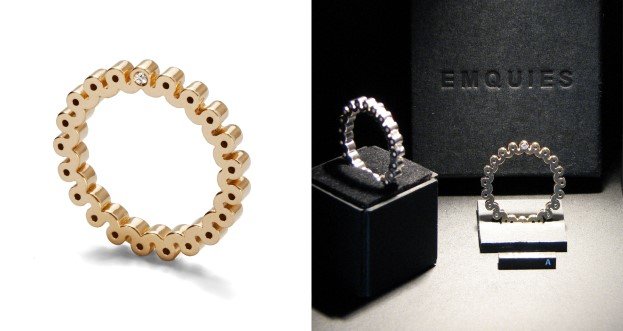 Classic Update
The archetypes and classics of the jewellery sphere were challenged, reinterpreted and retold, when byUs presented the design collective's newest designs at the exhibition "CLASSIC UPDATE".  The exhibition focused on traditional and conservative perceptions of jewellery and the desire to rebel against it. For the exhibition, Hanan Emquies chose to work with the eternity ring describing his thoughts behind the collection: The eternity ring is characterized by a narrow bar with diamond setting and is seen as a symbol of union – of being forever united and aligned.
In order to challenge the classic and conventional shape of the eternity ring, Hanan Emquies looked to the symbolic meaning of union and connectedness to see, if it could take on a different shape? And if a row of diamonds is a "must" in order to perceive and grasp the notion of the ring as an eternity ring?
Other exhibitions
Joining this exhibition, Diana Holstein chose to challenge herself taking the "pearl necklace" category to the next level while designing a pearl piece made for modern life, not conservative nostalgia. As such, Diana Holstein's pearl set can be worn in several ways and for several purposes just as modern life demands: Everyday, cocktail and gala.