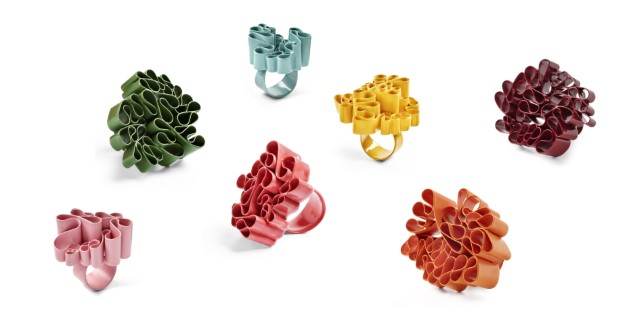 Urban Garden
In the Urban Garden collection hard metal merges with organic waves into a flawless tale of colorful nature in the midst of the urban jungle.
The rings featured in the collection resemble three-dimensional flowers, when they twist and turn on top of the hand with a lightness to the design, that make them feminine, yet strong – like true statement jewelry adding glamour to even casual dressing.
Each ring is one-of-a-kind and meticulously shaped in gold or silver. The colored rings are made of silver that have been powder painted in RAL colors, which are primarily used for trade purposes and as such pay homage to the industrial DNA of the design.  True to nature's ways, the finish on the sides of the rings will be worn of when used and the expression will change and faint just like a withering flower, finding new beauty in rustic decay.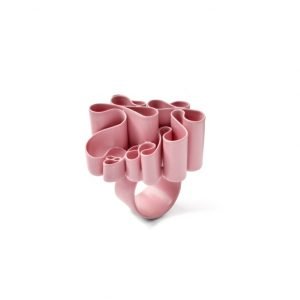 Quick View
Ring – color lacquered Sterling silver Measurements: Approx. 35 mm wide on the widest part of the ring Color: Light pink, RAL 3015 Size: 50 Delivery: 2-3 working days Please note, that the silver jewellery has been powder painted and hardened by epoxy to make the pieces wear-resistant. However, the rings might still be vulnerable when exposed to hard surfaces.