Personal Jewellery with Modern Tradition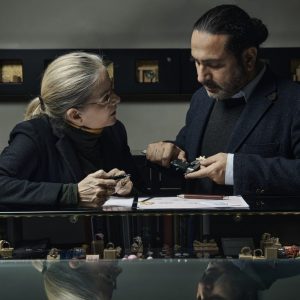 From their charming goldsmith studio and flagship store in the heart of Copenhagen designers Diana Holstein and Hanan Emquies make personal jewellery with a modern twist and a keen eye on tradition. The creative duo is driven by a passion for individual storytelling, which in just a few years has turned jewellery by Emquies-Holstein into internationally acclaimed conversation pieces.
Since 2007 the creativity and passion of Diana Holstein and Hanan Emquies has evolved solely around their mutual love brand Emquies-Holstein. Before joining forces privately as well as professionally the couple has worked with some of the world's finest designer labels such as Tiffany & Co, Ralph Lauren, Royal Copenhagen and George Jensen Damask, but today their uncompromising craftsmanship and characteristic expression is dedicated solely to their own collections.
In 2010 Emquies-Holstein moved to charming new settings in Copenhagen's design district. From the ceiling gigantic spotlights illuminate the buzzing machines, while glass cases display the latest collections, enabling visitors to experience the daily work of the designers at close hand. Diana Holstein and Hanan Emquies also work closely with the customers when it comes to meeting their specific demands, as storytelling and timeless jewellery is the very DNA of Emquies-Holstein as a brand.
Artistic diversity & common vision
With a background in graphic design, construction building and jewellery design Emquies-Holstein is an unusual and happy blend of arts. What Diana Holstein and Hanan Emquies have in common is a desire to salute everyday life and rituals, while bending the rules of traditional jewellery design. Through the years inspiration has come from surprising, yet always poetic places. From sensual chocolate wrapping to the stimulating rhythm of the flamenco dance, since expression and a sculptural mode of expression is at the heart of every jewellery piece by Emquies-Holstein.
The artistic diversity of the couple brings scope and weight to the Emquies-Holstein portfolio and today the brand is synonymous with precious jewellery with a modern twist for all life's special occasion. The ones prescribed by tradition as well as the ones, you invent yourself…
Tradition with a modern twist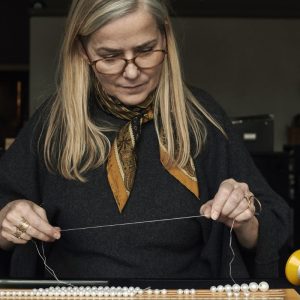 Keeping with tradition, while at that the same time adding a modern twist to the classics is at the core of Emquies-Holstein's design. Diana Holstein and Hanan Emquies are fascinated by the symbolic value attached to jewellery and look upon their design as conversation pieces rather than just decorative accessories. In their rings, bracelets and necklaces social conventions, artistic vision and the life of the wearer fuse into one original story, which – alongside uncompromising quality – places jewellery by Emquies-Holstein between individually crafted artwork and mass production.